By Beverly Bell on March 1, 2017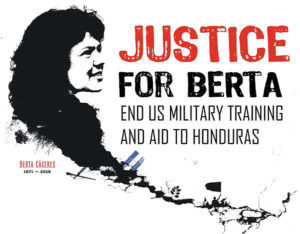 One year ago today, Berta Cáceres was murdered by the national and local Honduran government and a multinational dam company, with at least the tacit support of the US. Last September, all the evidence Cáceres' family had collected over many months was stolen, almost certainly by the government. The government has also refused to share information with the family and to allow independent parties like the Inter-American Commission on Human Rights to help with the process. Eight people have been arrested for her murder which according to The Guardian was an extrajudicial killing planned by military intelligence specialists linked to the Honduran US–trained special forces.
Please contact your US congressperson to urge him or her to endorse the Berta Cáceres Human Rights Act, which is being re-introduced today, March 2, 2017. It compels the US government to cut military aid to Honduras until it improves its human rights record. Please spread the call to your networks, too.
The legacy of Cáceres' vision and work lives on. Here, two of her daughters discuss Cáceres' political, spiritual, and intellectual heritage.
Beverly Bell: How do you see your mother's legacy?
Learn More